Canvas is City of Hope's education software platform, or Learning Management System (LMS), powered by Instructure. This web-based course management platform has features that include a robust interface, an intelligent course calendar, course notifications, easy online submission for assignments, and easy-to-use communication tools. It also features a simple dashboard that provides a comprehensive overview of all your classes, and mobile apps for both Android and iOS.
Canvas can be used to enrich face to face or online instruction and enhance the City of Hope educational experience by providing high-quality instruction and scholar achievement.

Genius SIS is a web-based student information system designed to manage the registration process and deliver complete school control using a simple interface. It has the power to, control enrollments, provide information to learners and instructors, track learner progress, and offers dynamic reporting capabilities that facilitate management of teaching and learning initiatives. In addition, learners not only have the ability to register for courses but offers the freedom of printing their own certificates and transcripts.
Getting Started
Beyond Getting Started:
If you have moved beyond commonly used features and are ready to build more robust and dynamic content for your courses please use the links to the guides below.
Help Desk:
To request a course, make changes to an existing course, or request a demonstration of the platform, click the button below to launch the self service form on Remedyforce. Please allow 24-48 business hours for our team to follow up on your submitted request.
Course Request
To request a new course, be prepared with specific details of your upcoming course including start and end dates, instructors, the learning audience, etc.



For your convenience, download any of these templates and prepare a list of course role participants or enrollees before starting your course request.






Please allow 1-2 weeks minimum prior to the start of the course. Typically, course shells are created 24-48 hours after the request is submitted. Course design assistance may take an additional 1-2 weeks

If you need additional assistance or would like support with course design, please contact us at

EducationTechnology@coh.org

.

Change Request
To make changes to your existing course, you'll need to provide the course id or course code. These changes may include: updated enrollments, role changes, course name, dates, etc.
Demo Request


Want to know more about the platform to facilitate your own course? Select this option for requesting a demonstration or to request additional Canvas training. We look forward to hearing about your learning needs.

Report a Problem


Select this option and describe the issue and how it impacts you. We encourage you to attach screenshots of the problem to help us evaluate and troubleshoot efficiently.

Submit Student Milestones


Milestones are student achievements within curriculums where educational groups collaborating with OET have predetermined how milestones are stored and displayed.





Those groups can download the template and prepare a list of milestones to attach to the request.




Genius FAQs
Check out these topics and helpful tutorials to get you started as a learner using the Genius Student Information System.
Distance Learning Resources
Acquire effective skills, tips, and techniques to prepare for successful distance learning.
Instructors:
Watch and learn.
Quickly get your classes up and running with the help from videos, instructor guides, and extensive resources.
Get off the ground quickly with Canvas' Training Service Portal:
A free resource for instructors was curated and compiled into a library of self-paced learning courses and videos. It's primary focus is to quickly help all instructors move their course materials and content from "on the ground" delivery to distance learning. Start with the course titled, "Preparing to Launch", and explore the other great resources in the library.
Instructors can find this resource via the Training Services Portal link within the main Help menu in Canvas.
Zoom + Canvas
Zoom is a web conferencing tool that provides remote conferencing services. The Zoom + Canvas integration allows instructors to use their Zoom credentials to schedule online meetings from within the Canvas platform.
If you already have a Zoom license that is connected to
your email address
, follow these steps:
Go into a Canvas course you are an Instructor in.
Select the Zoom button from the Course Menu.
Select to Authenticate, then Authorize Canvas access.
Both Pro and Basic Accounts can be used in Canvas. It is important to note that for a Basic Account there is a 40-minute time limit on meetings with 3 or more participants. Pro Accounts have no time limit and are allowed up to 300 participants.
To create a
Basic Zoom
account simply go to
https://zooom.us
and follow the steps to set up an account using your COH email address.
Settings should be based on the instructor's preference, but we recommend the following:
Create a topic.
Keep within the selected duration of the meeting.
Utilize the recurring meeting function if applicable.
Enable a Meeting Password (to keep the meeting safe and secure from unwanted guests).
Telephone and computer Audio (default)
Enable users to join before host (default)
Record meeting automatically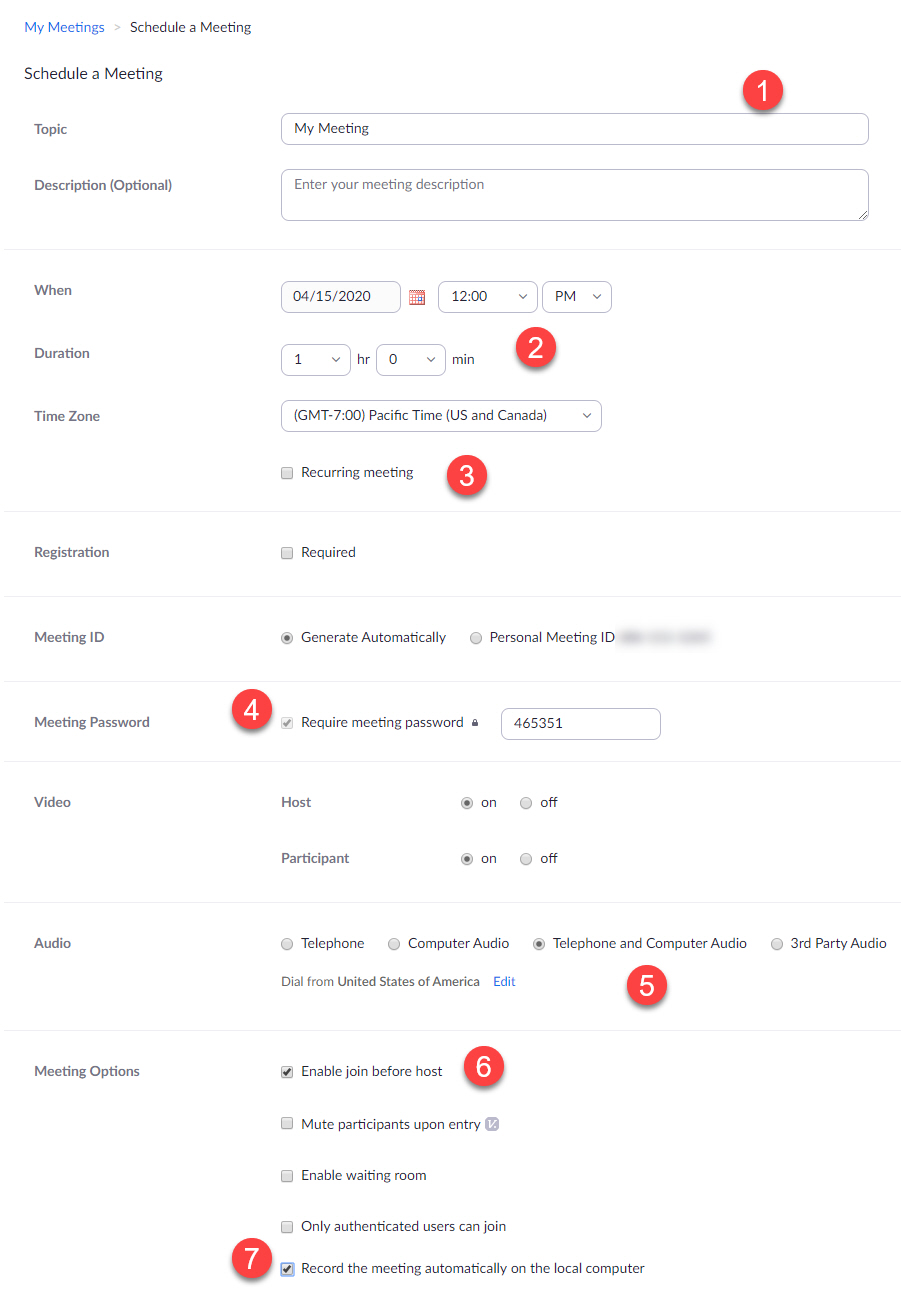 Have questions or need assistance?
---
Within Canvas, the Help button in the bottom left-hand corner provides a menu of options for support questions. You can report a problem directly within the application detailing how it's affecting you. Look for the question mark icon.
If by chance; you are unable to get into Canvas and utilize the help features, other support channels are available to assist you: